About Bespoke Market Intelligence
Our Story
Bespoke Market Intelligence was founded in 2012 by PJ Gorynski, Paul Hickey and Justin Walters.  The Bespoke team brings with it decades worth of experience in financial research, and we pride ourselves on our accessibility to our loyal client base.  We develop detailed surveys on topics that cover the spectrum of the economic and business world to find investable trends for our clients.  We know the right questions to ask and the right people to survey, and we know how to analyze the survey results so that our clients can easily interpret the information.
Our Name
"Bespoke" is a British term for tailored clothing made at a customer's behest.  Bespoke clothing is "created without use of a pre-existing pattern, differentiating it from made to measure, which alters a standard-sized pattern to fit the customer." When we launched Bespoke, we wanted to emphasize the unique relationships that we build with our clients, and there wasn't a better way to convey this message than to include "Bespoke" in our company name.  Many years have now passed since we opened our doors for business, but our message remains as strong as ever.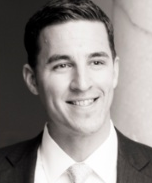 PJ Gorynski
Co-Founder
Peter J Gorynski co-founded Bespoke Market Intelligence with Paul Hickey and Justin Walters in 2012.  At Bespoke, PJ handles the day-to-day operations of the company, including survey programming, project design, research and analytics, sales, and audience procurement.  Prior to launching Bespoke Market Intelligence, PJ worked on the proprietary research team at Glenview Capital Management, a $10 billion long-short equity fund, in the Technology, Media, and Telecommunications group.
PJ graduated from Yale University in 2008 with a Bachelor of Arts degree in Political Science.  With his wife Karin, PJ is the proud parent of their two sons, Jackson and Jayden.
Justin Walters
Co-Founder
Justin Walters a co-founder of Bespoke Market Intelligence, where he handles web development, content and other operational functions. Justin is also a co-founder of Bespoke Investment Group along with Paul Hickey. His extensive equity-market and economic analysis has been featured in multiple publications and articles, and he has made appearances on CNBC, Fox Business Network, and Bloomberg TV.
Justin graduated from Yale University, where he was a member of the baseball team, in 2003 with a Bachelor of Arts degree in Economics. Justin and his wife Lauren have three children — Nolan, Wes and Sienna.
Paul Hickey
Co-Founder
Paul Hickey a co-founder of Bespoke Market Intelligence, where he works on development and advanced analytics. His reports and findings have been extensively featured in publications including The Wall Street Journal, The New York Times, The Financial Times, Barron's, The Washington Post, and USA Today. Paul frequently appears on CNBC, Fox Business Network, Bloomberg TV, and Bloomberg Radio. Along with his work at Bespoke Market Intelligence, Paul is also a co-founder of Bespoke Investment Group, which he formed with Justin Walters in 2007.
Paul graduated from the College of the Holy Cross in 1996 with a Bachelor of Arts degree in Economics. With his wife Hope, Paul is the proud parent of four daughters, Brennan, Claire, Jane, and Mara.
George Pearkes
Associate
George Pearkes is a research analyst and key writer for the Bespoke team, which he joined at the start of 2014.  Prior to joining Bespoke, George was a member of the Futures, Options and OTC Clearing group at Bank of America Merrill Lynch, with a focus on short-term fixed income products and collateral management.
George graduated with Honors from Duke University in 2012, where he majored in Public Policy Studies, minored in Economics, and earned a certificate in Markets & Management Studies.  While at Duke, George was a four year walk-on and letter winner while playing for the Duke Football team.  He originally hails from Nelson, British Columbia, Canada.all team.
Bespoke's offices are located in Westchester County, New York, about thirty minutes outside of New York City.  Call us any time at 914-630-0512 or via the nearby contact form.
Bespoke Market Intelligence, LLC
105 Calvert Street
Suite 100
Harrison, NY 10528