bespoke intel
buyside metrics & Consumer Data Observations
.
Buyside Intelligence Report
Areas of top interest during the past quarter
Social Media Advertising Executives

100%

100%

Fitness

96.3%

96.3%

Sporting Goods Retail

88.9%

88.9%

Video Gamers

81.5%

81.5%

Sports Gambling

81.5%

81.5%

Social Media Consumers

70.4%

70.4%

Social Media Average Age and Platform Cross-Over

66.7%

66.7%

Online Real Estate

66.7%

66.7%

Inflation Awareness and Expectations

66.7%

66.7%

Shein and Competitive Dynamics

63%

63%

Streaming Music and Satellite Radio

63%

63%

Recent and Expected Consumer Behavioral Changes

59.3%

59.3%

US Macro and Covid Update

59.3%

59.3%

Holiday Shopping Preview

59.3%

59.3%

Footwear

59.3%

59.3%

Department Stores

59.3%

59.3%
Aggregated report opens/downloads from research we sent during the past quarter. Below is a ranking of engagement within the top fiftieth percentile – so they are all reports that are heavily engaged with!
Online Retailers

51.9%

51.9%

CROX

48.1%

48.1%

Low Cost Retailers

48.1%

48.1%

Food Delivery

44.4%

44.4%

AMZN and W Pricing Analysis

37.0%

37.0%

BBQs

33.3%

33.3%

Ride Sharing

29.6%

29.6%

Mattresses

29.6%

29.6%

Crypto, Financial Products, and Mobile Payments

29.6%

29.6%

Buy Now, Pay Later

29.6%

29.6%

Home Furnishings

22.2%

22.2%

CPGs

22.2%

22.2%

Streaming Players

18.5%

18.5%

Furniture

14.8%

14.8%

Consumer Electronics China

14.8%

14.8%

Online Dating Apps

11.1%

11.1%
Details
From our View Point | Some Anecdotal Observations
Shopping online more often.
Going direct to the brand more often.
Pulling forward smartphone refresh cycles (after years of stretching).
Using food delivery more often, with WFH driving usage higher.
Increasingly interested in cryptocurrencies


Opting out of privacy when prompted, but caring less to take matters into their own hands when not prompted.
When listening to music, consumers are shifting preferences to picking individual songs and podcasts instead of playing a station
Increasingly okay with paying instant transfer fees when using mobile payments apps.
Video gamers are increasing engagement with free games with in-game downloads.
Reporting changes in weight during the pandemic (more likely to have gained than lost).
Increasingly interested in getting an electric car for their next vehicle.
Interest in at-home fitness peaked in May of 2021. Interest remains elevated relative to pre-pandemic levels, but lower than May of this year.
Purchasers of online mattresses are increasingly reporting that the mattress is holding up better than their expectations.
Shifting furniture shopping online, but showing some desire to return to in-store after Covid concerns subside.


Inflation expectations for the next year have been on the rise, but the 5 and 10 year views have remained more anchored.
Hedge funds clients are increasingly asking for help with custom surveys on private investments.

Increasingly interested in data on upcoming IPOs.

Increasingly using survey to diligence demand curves by age cohort to help project TAM.

Increasingly interested in understanding NPS for existing and potential investments. And, as an extension of that, truly understanding where the most / least healthy relationships exist across the market between brands and customers.

Increasingly interested in understanding consumer behaviors adopted during the pandemic and which will persist post-covid and which will regress. And, as an extension of that, understanding how changes to things like stimulus, work from home, inflation, etc will impact consumption and behavior patterns.

Private equity clients have expressed frustration sourcing deals through typical channels that they have used historically. They are looking for new ways to develop relationships with potential targets earlier in the process.

Among private equity clients, we saw an increased interest in conducting research in companies in skincare, beauty, and fashion end markets.

Among hedge fund and mutual fund clients, the top area of interest BY FAR at the moment is Peloton / Fitness. Other areas that we get asked about the most include Food Delivery, Video Games, China Consumer Trends, Social Media (especially privacy issues), eCommerce, Streaming Video, Sporting Goods, Specific Retail Brands (CROX, FIGS, for example), etc.
Buyside Intelligence Report
Research Portal | a word cloud to recap 2021.
The word cloud to the right aggregates all report views/downloads in our client research portal during all of 2021 and expresses frequency by the size of the word in the cloud.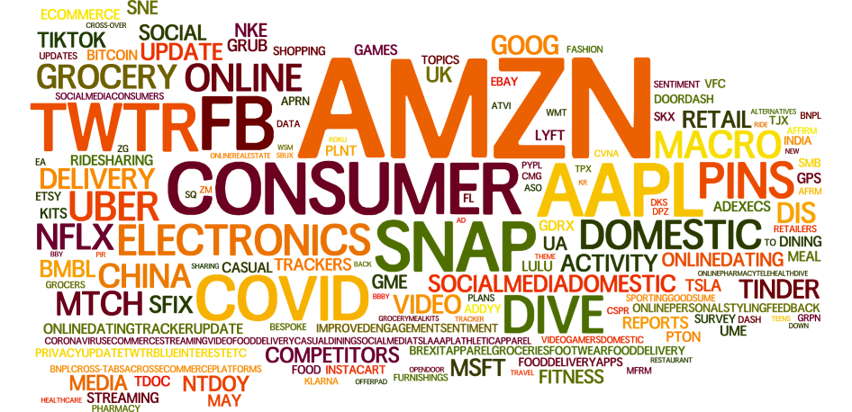 research roundup
top charts from the past quarter