Our report library contains thousands of survey reports with hundreds of new reports added every year (consumer, B2B, domestic, and international – across sectors). We track thousands of KPIs across 200+ companies with recurring surveys. If we don't ask about something you need to know, we add it to our coverage. Client input keeps our focus wrapping around the most important investment debates.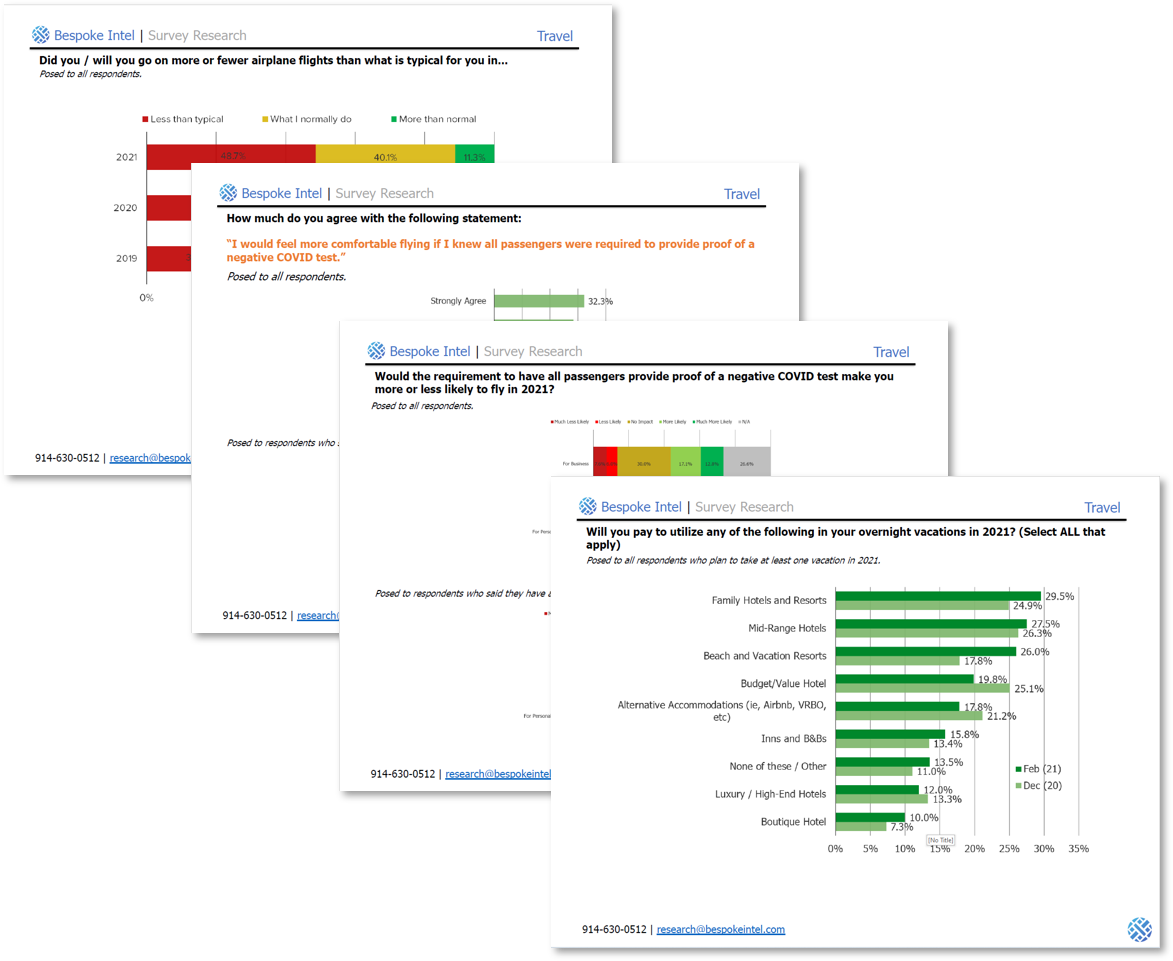 examples
PINS Engagement Survey Example
Click on the image to the left to open an example of our survey work focused on Pinterest to understand recent engagement trends.
examples
Income Cuts Survey Example
Click the image to the left to view 90 macro, consumer tech, retail, and healthcare KPIs cut by income level, tracked over time.
bespoke intel
Survey Platform Coverage List
| | |
| --- | --- |
| Athleisure | LULU, NKE, GPS, ADDYY, PUMSY, etc |
| Bitcoin & Crypto | SQ, PYPL, COIN, Gemini, HOOD |
| China Consumer Electronics | AAPL, Competitors |
| China eCommerce | PDD, BABA, JD |
| China Food Delivery | Numerous |
| Cloud Computing and Data | IT Executives | SNOW, DDOG, AMZN, GOOG, MSFT, etc |
| Consumer Electronics Domestic | AAPL, BBY, AMZN |
| Electric Vehicles | TSLA, AAPL, RIVN, Lucid, Fisker |
| Fixed Wireless | TMUS, VZ, etc |
| Food Delivery Apps Domestic | UBER, DASH, GRUB |
| Grocers and Grocery Delivery | AMZN, APRN, WF, WMT, KR, Instacart |
| HR Recruiting (B2B) | UPWK, FVRR, Indeed, etc. |
| India Food Delivery | Numerous |
| India Grocery & eCommerce | Numerous |
| Meal Kits | AMZN, APRN, HelloFresh, DASH, Instacart, Shipt |
| Mobile Payments | PYPL, SQ, Zelle, Venmo, Chime, HOOD, NRDS, COIN |
| News | NYT & Competitors |
| Online Clothing Stylists | SFIX, AMZN |
| Online Dating | MTCH, BMBL, Tinder |
| Online Real Estate & iBuying | ZG, RDFN, OPEN, Offerpad |
| Online Retailers | AMZN, ETSY, W, WISH, OSTK, EBAY |
| Pharmacy & Drug Stores | AMZN, CVS, WMT, GDRX, WBA, TDOC, Capsule, etc |
| Realtors Survey | ZG, RDFN, OPEN, Offerpad |
| Retail Traders | Robinhood, SQ, WSB |
| Ride Sharing Consumers | UBER, LYFT |
| Ride Sharing Drivers | UBER, LYFT, DASH, GRUB, etc |
| SAAS IT Decision Makers | ZM, MSFT, ADBE, CRM, INTU, AMZN, DOCU, GDDY, WORK, ZEN, SQSP, Canva, NOW, UPWK, WIX, FVRR, HUBS, MNDY, FRSH, DOCN |
| Search and AI Chatbots | GOOG, MSFT, AMZN, etc |
| Social Media Ad Execs | FB, GOOG, PINS, SNAP, AMZN, TWTR, TikTok |
| Social Media Domestic | FB, SNAP, TWTR, GOOG, PINS, TikTok, Truth Social |
| Social Media Screen Time Upload Scrape | FB, SNAP, TWTR, GOOG, PINS, TikTok, Truth Social |
| Social Media Teens | FB, SNAP, TWTR, GOOG, PINS, TikTok, Truth Social |
| Sports Gambling | DKNG, PENN, CZR |
| Streaming Music and Satellite Radio | SPOT, SIRI, AMZN, AAPL |
| Streaming Players | ROKU, AAPL, AMZN, etc |
| Streaming Video Domestic | NFLX, DIS, T, CMCSA, VIAC, AAPL, AMZN, ROKU, FUBO |
| Streaming Video International (India) | NFLX, DIS, NBC, T |
| Temu | PDD, AMZN, EBAY, ETSY, W, OSTK, WMT, TGT |
| Travel (Consumers) | ABNB, EXPE, TRIP, etc. |
| Travel Agents | Various |
| UK Food & Grocery Delivery | JE, UBER, DASH, Deliveroo, GRUB |
| Video Calls | ZM, WORK, MSFT |
| Video Gamers Domestic | SNE, MSFT, NTDOY, GME, AMZN, BBY, TTWO, EA, ATVI , SE |
| Video Gamers Japan & UK | SNE, NTDOY, MSFT |
| COVID and Macro Trackers | US, China, India, UK |
| Inflation Awareness and Expectations | |
| Self-Storage, WFH, Demand Trends | B2B Survey |
| Vaccines | Numerous |
| Audio Players | SONOS |
| Auto Sites and Apps | CVNA, CARG, KMX, TSLA |
| Back to School | Numerous |
| Bath and Body | BBWI |
| BBQ Grills | WEBR, COOK |
| Beauty and Skincare | ULTA, HNST, AMZN |
| Boat Distributors | Various |
| Buy Now, Pay Later | AFRM, After Pay, Klarna |
| Buy Online, Pick Up In-Stores | Numerous |
| China Athletic Apparel / Xinjiang Cotton Incident | |
| China Luxury / Common Prosperity | Numerous |
| Chipotle Deep Dive | CMG |
| Coffee | SBUX, DNKN, MCD, Luckin |
| Consumer Need To Have's / Inflation Resilience | Various |
| CPGs | PG, UL, KMB |
| Crocs | CROX, Hey Dude |
| Cruises & OTAs | CCL, RCL, NCLH, BKNG, EXPE, TRVG, ABNB |
| Department Store Retail | M, KSS, TJX, JCP, Branded Apparel |
| Energy Drinks | MNST,  CELC |
| Fast Fashion | Shein vs. Competitors |
| Fitness | PLNT, PTON |
| Footwear | FL, NKE, ADDYY, SKX, UA, AMZN, VFC |
| Furniture | RH, W, WSM |
| Handbags | CPRI and Competitors |
| Hard Seltzer | SAM, BUD |
| Holiday Shopping Preview | Numerous |
| Home Furnishings | BBBY, W, PIR, WSM, TJX |
| Jewelry Survey | SIG, TIF, Pandora, etc. |
| Low-Cost Retail | WMT, TGT, COST, FIVE, Dollar Stores |
| Mattresses | TPX, CSPR, PRPL, MFRM |
| Milk Alternatives | OTLY |
| Movie Theaters & Streaming | AMC, DIS, NFLX, T, etc |
| MTN | |
| Pet Retail & Health | AMZN, CHWY, TRUP, WOOF |
| Pizza | DPZ, PZZA, YUM |
| Plant Based Meat Alternatives | BYND, Impossible |
| Scrubs, Healthcare Professionals | FIGS |
| Secondhand Fashion | TDUP, POSH, REAL |
| Sporting Goods | DKS, ASO |
| Theme Parks | SIX, SEAS, DIS |
| UK Retail | Numerous |
| Undergarments and Lingerie | VSCO and Competitors |
| VSCO Deep Dive | |
bespoke intel
Monthly Survey Questions
Agrees that they are concerned they will lose their job
Auto purchase recency
Auto Sites and Tesla
Auto was used when they purchased/leased it
Big Box Retailers
Confidence in economy
Consumer Electronics
Currently has a cough
Currently has a sore throat
Currently has chest pain
Currently has diabetes
Currently has loss of taste or smell
Currently has the common cold
Currently has the Flu
Currently rents residence
Dental Visits in past month
Expectations for US unemployment level one year from now
Expected discretionary spending over the next few months
Follows the stock market on a regular basis
Healthcare deductible changes
Healthcare overall cost changes
Investors' expectations for interest rates one year from now
Likelihood of purchasing a home in the next year
Lives in a multi-family house
Lives in a single-family house
Made a credit card payment in the past month
Noticed Gas Prices Are Lower
NYT and News
Off Price Dept Stores
Orthopedic Visits or Surgery Past Month
Percentage of consumers employed part-time
Percentage of unemployed who filed for unemployment assistance in the past month
Plans to start a home improvement project in the next six months 
Purchased home within past three months
Refinanced mortgage in the past year
Sentiment toward state of personal finances
Social Media
Started a home improvement project in the past three months
Tickets and Live Events
Travel, Cruises, and Theme Parks
Visited doctor's office in the past month
Visited hospital in the past month
Auto was new when they purchased/leased it
Belief in their financial condition compared to the average person
Believes they are living paycheck to paycheck
Cosmetic or Plastic Surgery Visits past month
Current credit card debt vs. one year ago
Current income vs. one year ago
Current view of the stock market
Currently has a bacterial infection requiring antibiotics
Currently has a stuffy nose
Currently has allergies
Currently has chest tightness
Currently has confusion
Currently has difficulty breathing
Currently living with parents, children, relatives, etc
Currently on long-term antibiotics
Currently owns residence
Department Stores
Doctor's office visit recency
Gambling
Glasses and Contact Lenses
Grocers and Grocery Delivery
Healthcare copay changes
Healthcare premium changes
Home Improvement
Home is currently listed for sale
Hospital visit recency
Investors risk willing to take with investment assets now compared to a year ago
Lasik Surgery Past Month
Last home improvement project was do-it-yourself
Lives in an apartment/condo/townhouse
Made mortgage payment in the past month
Noticed Gas Prices Are Higher
Online Dating
Online Retailers
Owns an automobile
Percentage of consumers employed and looking for work
Percentage of consumers employed full time
Percentage of employed respondents who have started a new business in the past year
Purchased primary automobile in the past three months
Sentiment toward finances vs. one year ago
Started a home improvement project in the past month
Streaming Video