To learn more about our platform for the buyside (including methodology and coverage list), please visit: Bespoke Intel – Survey Research Platform
Below is an excerpt from our social media survey research. To learn more about our full social media coverage (including FB, SNAP, TWTR, Instagram, etc), please contact us: 914-630-0512 or pgorynski@bespokeintel.com.
Toward the end of 2017, we started to highlight DAU concerns for FB (specifically, that fears of millennials disengaging from Facebook were actually starting to materialize).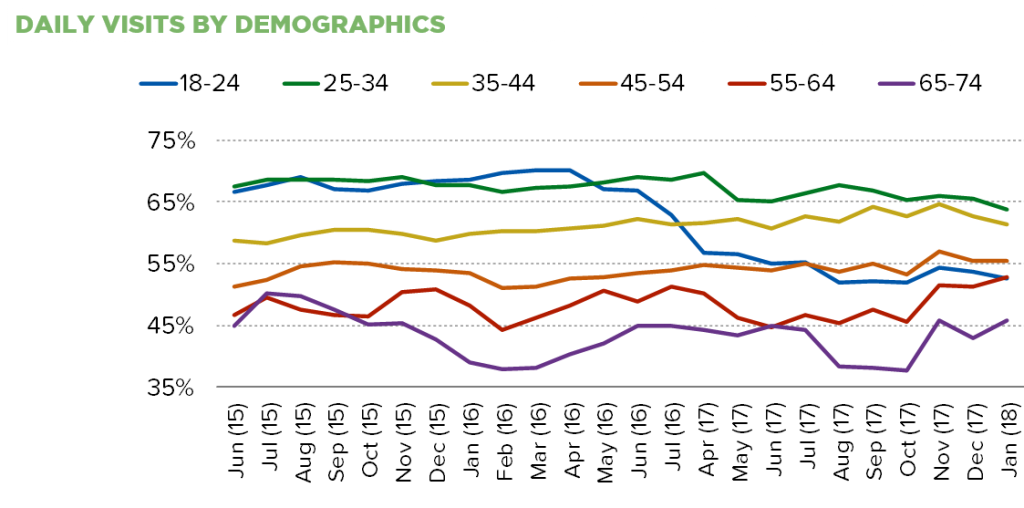 Zuckerberg recently discussed making changes to newsfeed "because it is time better spent," and more healthily spent, on Facebook if you are using it for social interaction. While that is true, and a good deal of ink has been spilled in recent weeks on the health concerns around social media use in general, we wanted to investigate if the engagement declines were primarily the result of ad load (which can be fixed) or if they are more structural (a prolonged threat that could grow). PS – we think it is a little naive to think Facebook intentionally reduced time per day on the app by 50 million hours and we would also highlight that their proposed changes fail to fully address all the concerns of the "social media is bad for you" crowd. You'll see evidence that for those folks, it may be too late to put the toothpaste back in the tube.
Back to the structural or transient debate… For starters, we found that there was an inflection point where users stopped being increasingly likely to say ads in newsfeed are getting more relevant and started to become increasingly likely to say they were more annoyed by ads in newsfeed. It seems that perhaps Facebook had been executing really well for a while with keeping tolerance of ad load in check while increasing ad load all the while, and maybe got a little ahead of itself.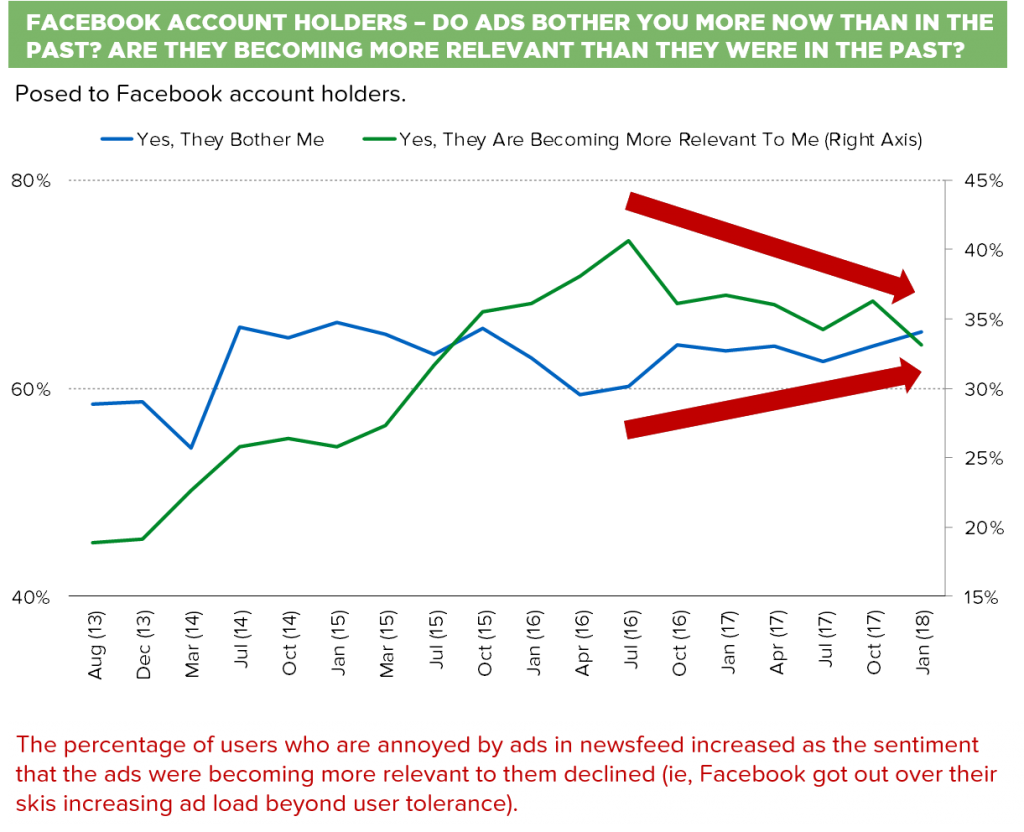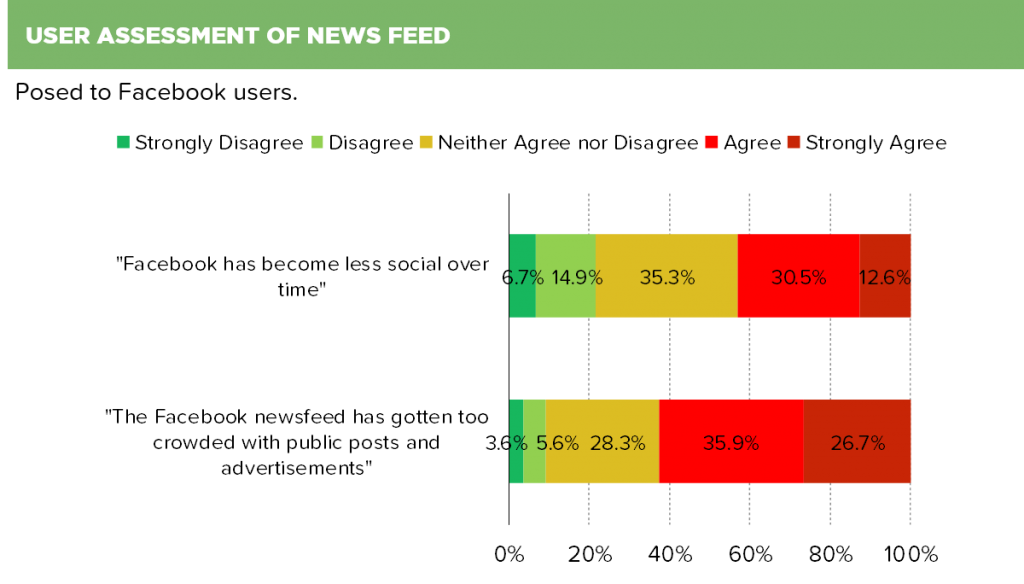 In Zuckerberg's statement he references internal research they have done telling them that users think newsfeed has gotten a little crowded (the charts above confirm). It seems reasonable to think that FB gathered a lot of the type of feedback we are showing you in these surveys and are seeing that sliding engagement from millennials is accompanied by increased annoyance with ads. There are some indications in our report, though, that it goes beyond annoyance with ads (and these concerns may be more structural). We'll drop a couple examples of this in below. Just a flavor of the full extent of the feedback in our surveys.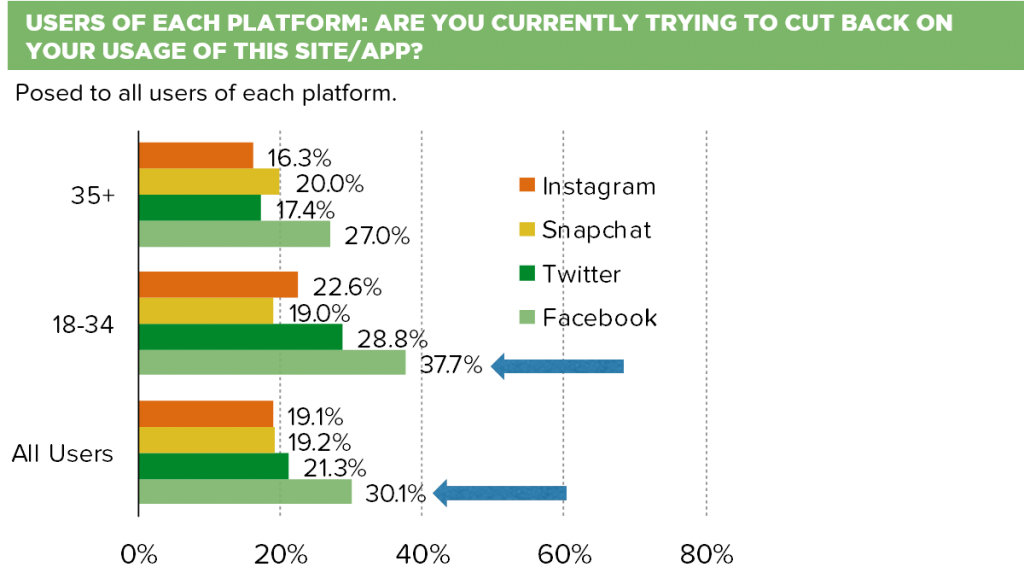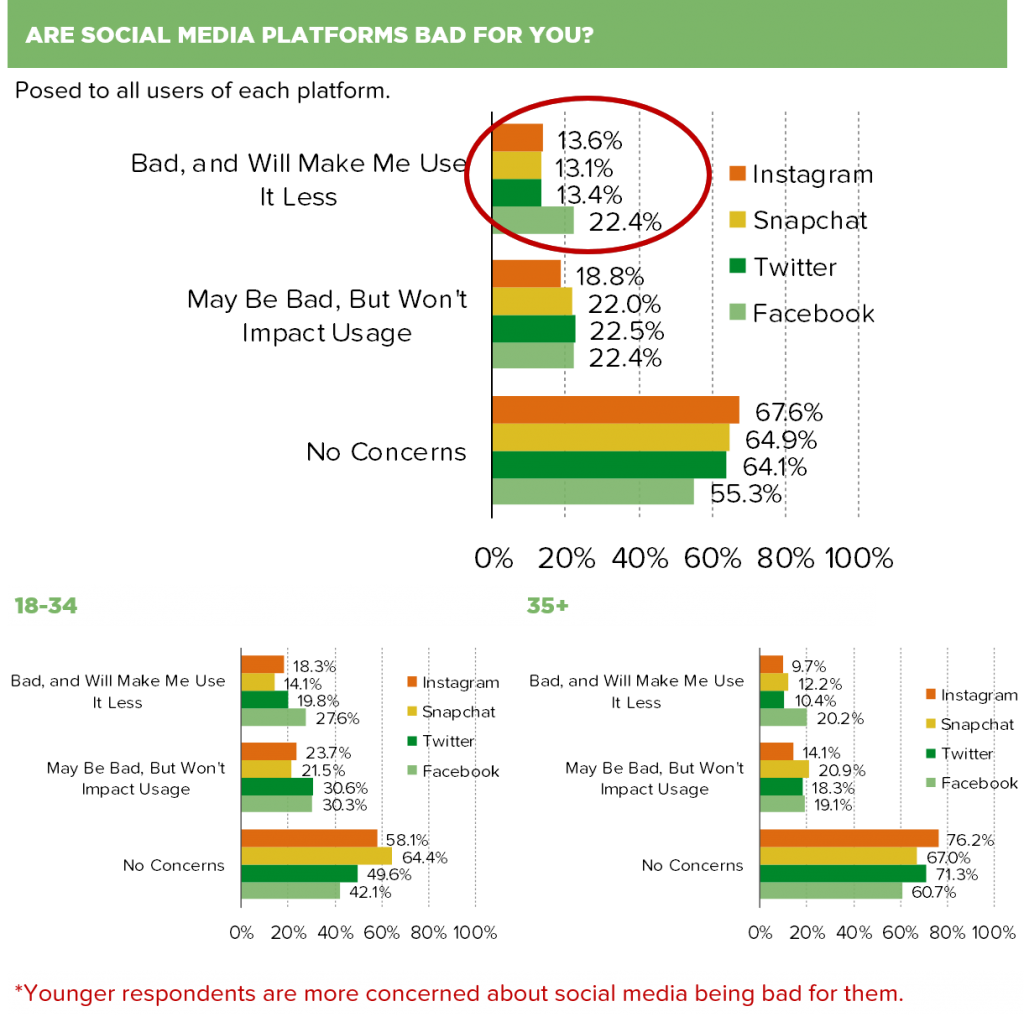 Keep in mind: Facebook could fix these issues, it currently trades at a discount, and the advertiser view may be that Facebook is where they want to be anyway and they don't have many other places to go instead. And like we flagged in our report, Instagram is absolutely ripping in our surveys and is performing really well. Our job though, is to flag that these issues are there currently with consumers and to hopefully give you a window of a look into why Facebook might have decided to make a significant change to newsfeed (and very publicly). There's a ton of interesting information in the entire report and it goes into depth on TWTR and SNAP as well (with a helpful look on SNAP and how strong the headwinds are that would get in the way of acquiring older users).
Would love to chat if you found this to be interesting and would like to see more like it!
To learn more about our platform for the buyside (including methodology and coverage list), please visit: Bespoke Intel – Survey Research Platform