Thesis Insights
Backed By Evidence 
If you cover the eCommerce space in any capacity, then you've almost certainly been made aware of Temu at some point over the past year. The Chinese eCommerce company, owned and operated by Pinduoduo, launched in September of 2022 and has exploded onto the eCommerce scene in a dramatic fashion. Towards the beginning of 2023, we began to receive inquiries from clients asking if we had done any survey work on the company. We immediately got to work and launched our first wave of a Temu-focused consumer survey to gather insights. Since that initial launch back in January, we have launched two more waves of the survey, added questions on Temu to both our domestic and Chinese eCommerce surveys, launched a brand new eCommerce survey with specific focus on Temu, TikTok, and Shein, ran identical item pricing analyses on Temu vs. Amazon vs. Shein, and hosted a webinar covering insights from all of these. This post will contain data from all of the aforementioned reports and will hopefully give you a clearer image into how the consumer views both Temu and the broader eCommerce market. Let's dive in…
Temu Specific
The first report that we'll cover will be the Temu-specific consumer survey. We first launched this survey in January, and have released three subsequent volumes since with our most recent being launched in July (be on the lookout for the fourth wave in the coming weeks). Over the course of the survey, we've seen consumer awareness of Temu increase sharply, with the share of consumers who have shopped on Temu increasing sequentially as well.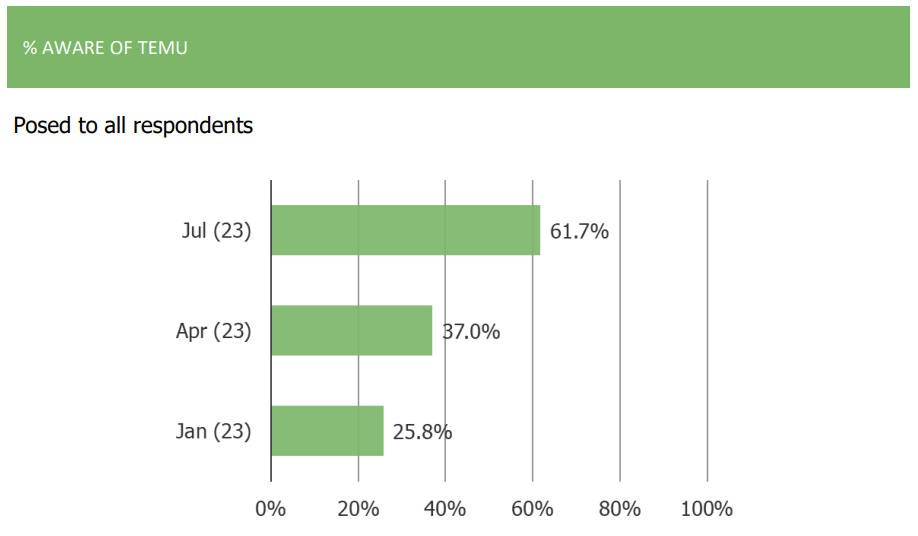 Temu shoppers indicate that they are primarily using the eCommerce platform for clothing and shoes. The share of customers who note that Temu has replaced their shopping on other platforms has increased over the course of the survey. When asked about what platforms are being replaced, customers noted sites such as Amazon, Shein, Wal-Mart, and Wish. Other platforms in which Temu customers have a high degree of cross-over with include Wayfair, Zara, H&M, and Burlington.
Temu customers point towards the low cost of the products as the primary thing that they like about the company, and they indicate a much higher likelihood of using it for low-cost items going forward as opposed to higher costing items. Customers over-index as female, lower income, and younger relative to the broader population.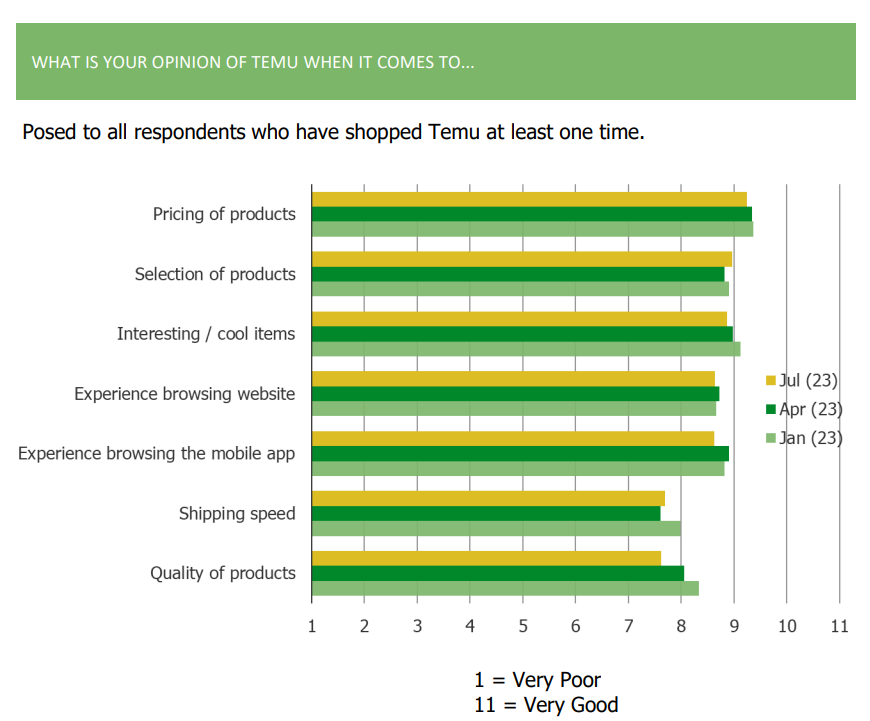 Domestic eCommerce
When you think of the eCommerce market, names such as Amazon, Etsy, and Wish typically take up the majority of consumer mind-share. With the introduction of platforms like Temu over the past year, consumers have begun to turn their heads in favor of newer options. Even social media platforms like Instagram and TikTok have entered the market by integrating their own shopping platforms into their respective apps. The majority of these newer platforms are coming from Chinese companies entering the space. To account for this, we ran a domestic survey with specific focus on Temu, TikTok, and Shein to gauge just how much they're affecting the broader eCommerce market. We ran this survey in addition to our domestic and Chinese eCommerce surveys that we refresh quarterly.
Interestingly enough, we found that respondents who are familiar with Temu and Shein were most likely to have heard of these platforms for the first time on Facebook. After Facebook, respondents cited hearing of them for the first time through word of mouth and on TikTok.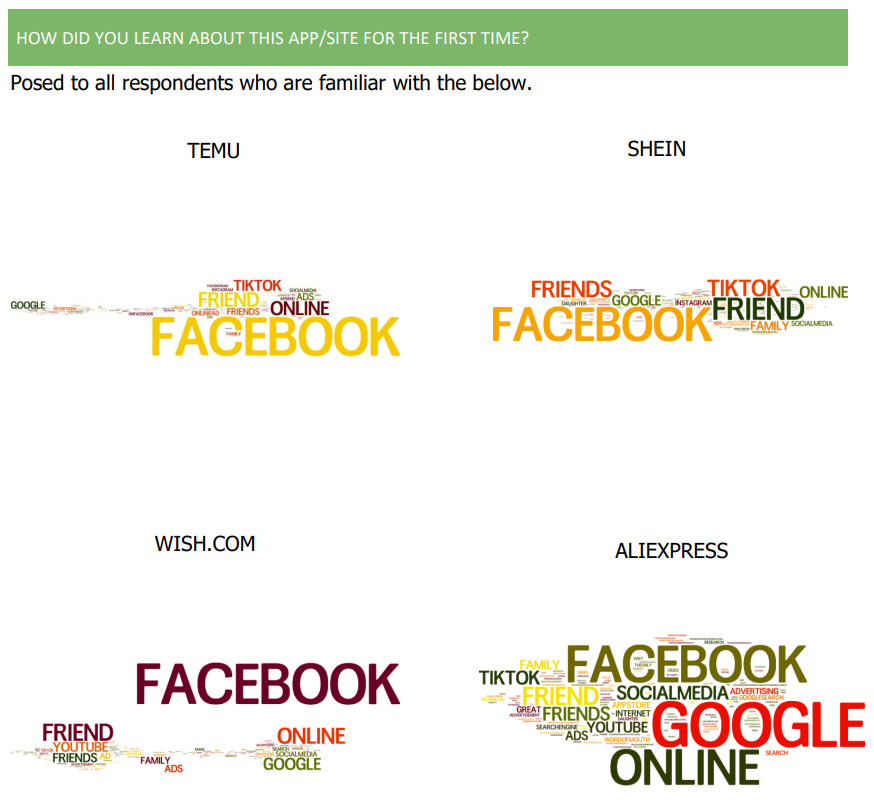 There's a great deal of crossover between the user bases of TikTok and the user bases of Temu & Shein. TikTok users reported that they would generally have a strong degree of interest in seeing an eCommerce tab within the TikTok app and over time, have shown that they have an increasingly positive opinion of buying products through social media. Temu and Shein customers who also have TikTok accounts are especially likely to be interested in this.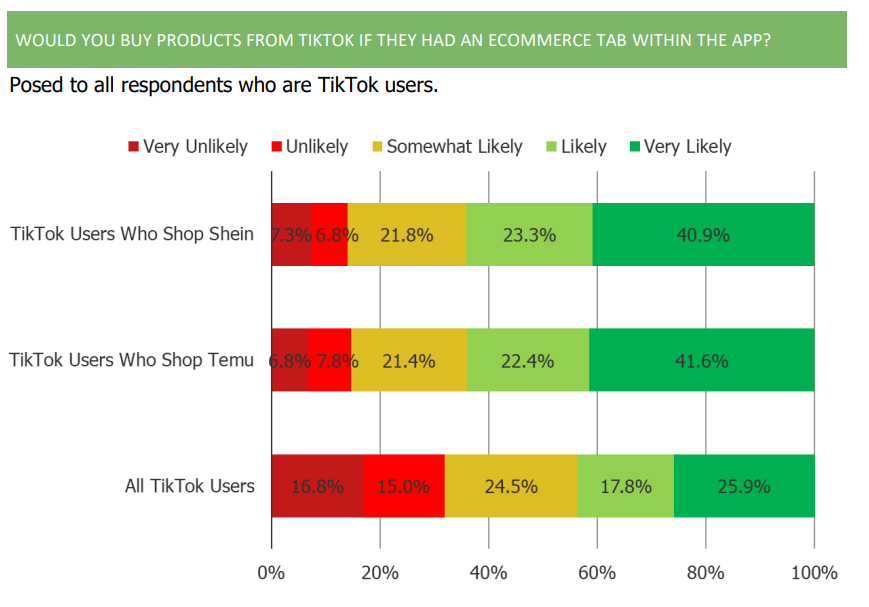 Now despite the increasing positive sentiment towards these newer platforms, legacy ecommerce companies such as Amazon and Etsy typically are seen as more trustworthy than Temu, TikTok, and Shein.
Chinese eCommerce
Now that we've spent some time talking about how consumers in the U.S. view the various eCommerce platforms, it's time time to take a look at how Chinese consumers view them.
When asked whether or not they felt a cohort of eCommerce companies were gaining or losing in popularity, consumers over the last quarter generally feel as if Pinduoduo is gaining popularity while the likes of JD.com, Taobao, and Vipshop have been viewed as losing popularity.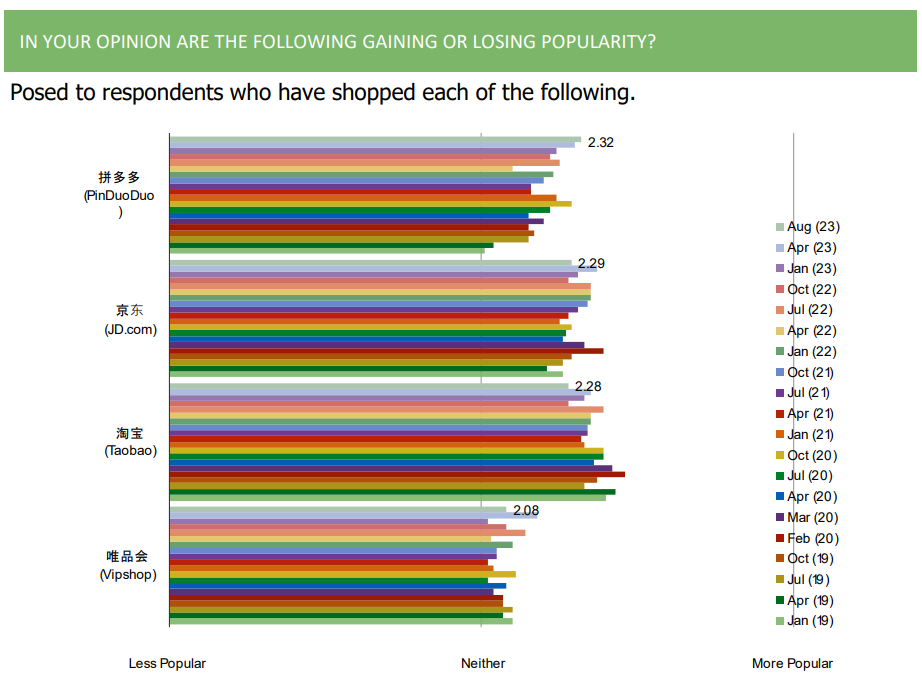 When asked of their future plans for increasing or decreasing spending at a plurality of eCommerce platforms, Chinese consumers point towards decreasing spending across the board. When we inquired about which platform consumers purchase the most apparel, JD.com won out market share by a pretty significant amount with 44.1% of respondents stating that that is where they most commonly shop at. JD.com was followed by Taobao (19.8%) and Pinduoduo (10.3%).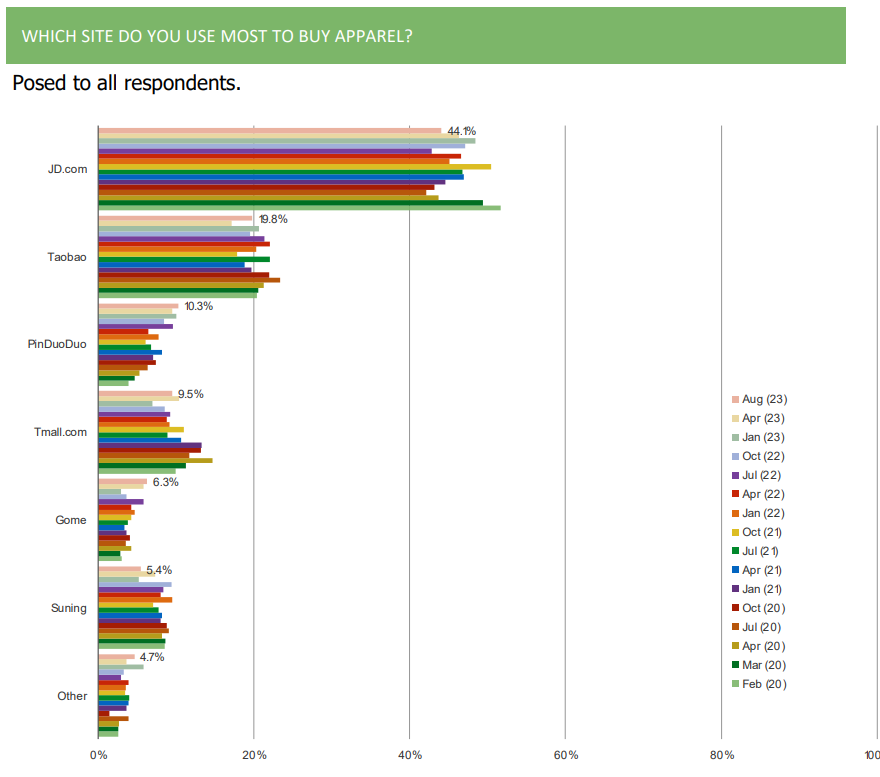 When discussing the Chinese eCommerce market, it would be tough not to bring up Alibaba. The Chinese-based platform has dominated the global eCommerce market for years but has shown some signs of slowing lately. The plurality of consumers that noted that they shopped on Alibaba "often" dropped sharply over the past quarter while the share that shop "occasionally" rose. Now while this may be an indication of consumers jumping ship to other platforms, it should be noted that 36.5% of respondents last purchased products from Alibaba in the last week and 30.5% of respondents note that they purchased more than three items from the platform in the past month.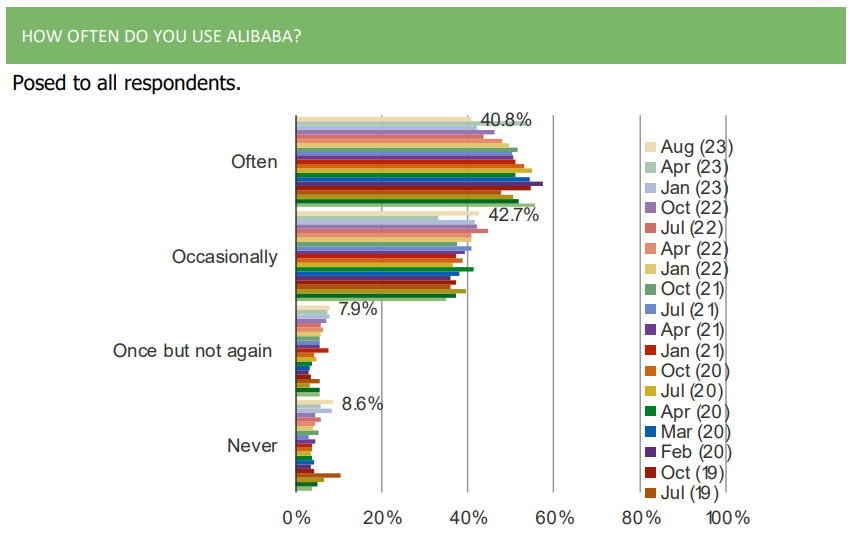 Identical Item Pricing Analysis
We've been running pricing analyses on Amazon vs Wayfair and Amazon vs Chewy for some time now so we felt as if it was only right to launch an analysis on Temu vs Amazon vs Shein, as market share for these platforms has increased so dramitacally.
We started off by collecting pricing data from 100+ identical items that we found on both Temu and Shein. We began the process by browsing the Temu's most popular items section. We then searched for the same product text on both Shein and Amazon. If we were able to find the item on Shein then we included it in the analysis. We then looked for the same item on Amazon to see if it was available or not, and to compare pricing. The images for Temu and Shein were almost always identical while the Amazon images were either identical or very close matches.
We found that of the identical items found on both Shein and Temu, 67% of them were cheaper on Temu. We then checked if they were also available on Amazon. We found that 57% of the items that we searched for were also available on Amazon. Of these items, 96.5% of them were cheaper on Temu and 89.5% of them were listed at a cheaper price than on Amazon.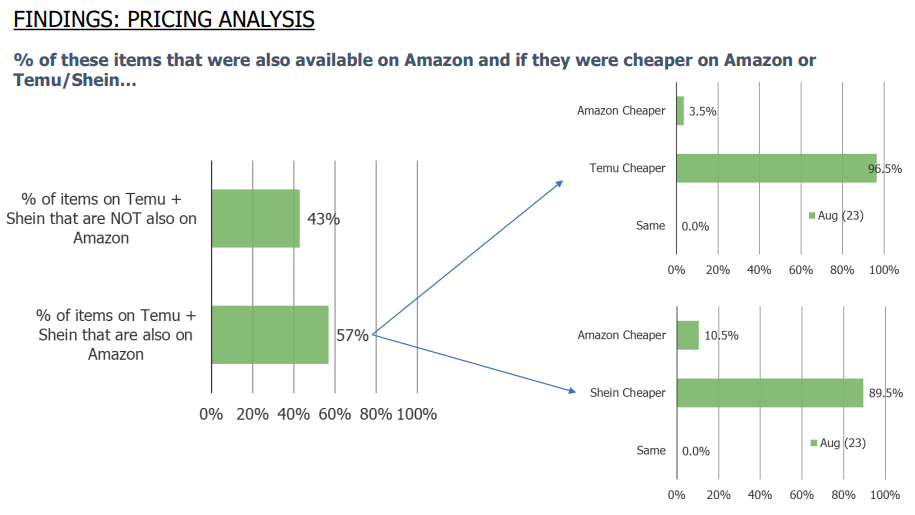 Wrap-Up
We hope that this deep-dive provided you with some notable insights into Temu and the broader eCommerce market. If anything in this post peaked your interest and you'd like to learn more, feel free to reach out to us by emailing [email protected]. We'll be refreshing our eCommerce surveys in the coming weeks so be on the lookout!
Next Step: Tap Into Our Primary Research