There was an article published yesterday in the Atlantic with negative calls on Instagram citing a teen survey (the Atlantic article can be found here).
We wanted to re-flag our social media teens survey from June of this year, with historical comparisons to a prior wave conducted in September of 2021, and also wanted to offer some perspective on the data from our years of experience running surveys broadly and specifically on social media.
Net/Net: The views in the article lack important context and cherry pick individual quotes instead of capturing the sentiment of all teen users.
Open Report: Bespoke – Social Media Teens Survey (June 2022)
Other Resource:Bespoke – Social Media 18+ Year-Olds, October 2022
Point 1: Favorite App
The Atlantic article says that "only" ~20% of teens selecting Instagram as their favorite app is evidence of Gen Z's relationship with the platform being in jeapardy. In our survey with teens in June of 2022, 23.5% of respondents said Instagram is their favorite app (similar to the figure the article references).
In September of 2021, ~26% of our teen respondents said Instagram was their favorite. The history tells us that there was some directional softening, but it also confirms what everyone has already known – teens and younger cohorts generally prefer TikTok as their "favorite" app and have for some time. IE, this is nothing new.
Now, for some context.

In analysis we have run on our data across age bands, we found that younger cohorts use more social media platforms and spend more time using those platforms compared to older cohorts. As a result, there is more dispersion in a chart like this one below for teens than there is for older cohorts. As with all data points, you must weigh their importance and place them within context. Knowing which app is their favorite is a worthwhile KPI to track over time, but knowing that there is a bigger pie of time/usage to compete for is important context to keep in mind.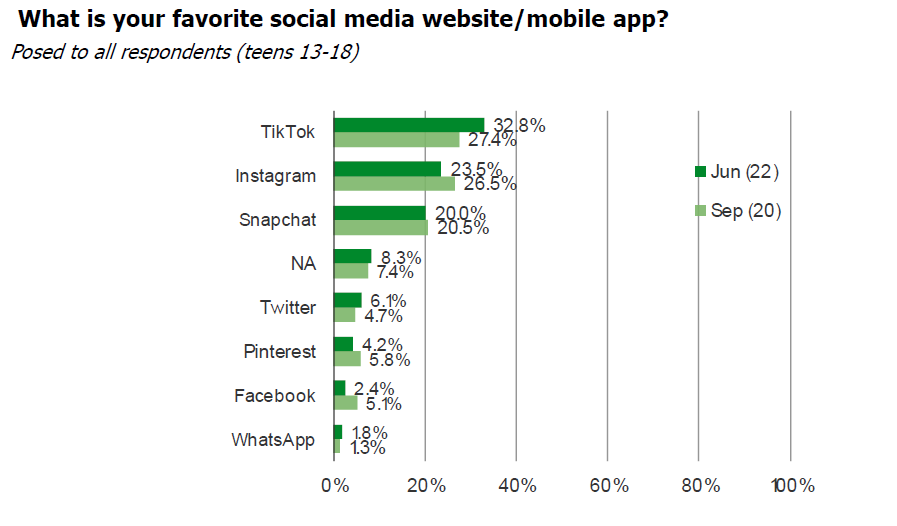 Point 2: Use Cases
Teens have very different use cases for the social platforms they use. Instagram's word cloud looks very different than TikTok's.
Contrary to what the Atlantic article discusses, it seems more like TikTok users are the ones passively viewing videos solely for entertainment. Instagram is more for friends and is associated more with "posting" (ie, actively using the platform) than any other we tested.
If anything, TikTok looks to have its competitive sights more locked in on YouTube when it comes to teens.
Point 3: Self-Reported Usage
Self-reported daily visits and self-reported time spent per day were close to unchanged from September of 2021 to June of 2022. Noteworthy because this is supposed to be the cohort that is souring the most on Instagram, as per the article.
Other Noteworthy Points:
Sentiment toward Reels among teens improved considerably from 2021 to 2022.
TikTok is preferred over Instagram, but if forced to choose between the two 43% of teens would choose Instagram (with some interesting verbatim fill-ins explaining why in the PDF linked above).