If you are a client, login to view the full reports.
Key Points:
Cross-Shopping Is Increasing, and Customers Think Wayfair Is More Expensive
From our identical item pricing analysis work – we have found that Amazon is cheaper than Wayfair on identical items most of the time. The data shifted a bit in September of 2020 at the height of Amazon's shipping difficulties, but has since returned to typical readings from our data collection.
2. From our survey, Wayfair shoppers are increasingly cross-shopping Amazon before making their purchases.
3. Also from our survey, Wayfair cross-shoppers actually pretty accurate in their assessment of whether Amazon or Wayfair is cheaper.
Furniture Shopping In-Stores vs. Online and Covid: In-Store Expected To Make a Comeback
4. Furniture shopping is an area in which consumers appear poised to return to pre-Covid preferences (online vs. in-stores). Some examples of areas that figure to hold onto Covid gains include food delivery, streaming video, video games, online grocery. Another area where consumers expect their behavior to eventually regress to pre-covid levels: video calls.
Charts: From Our Identical Item Pricing Analysis: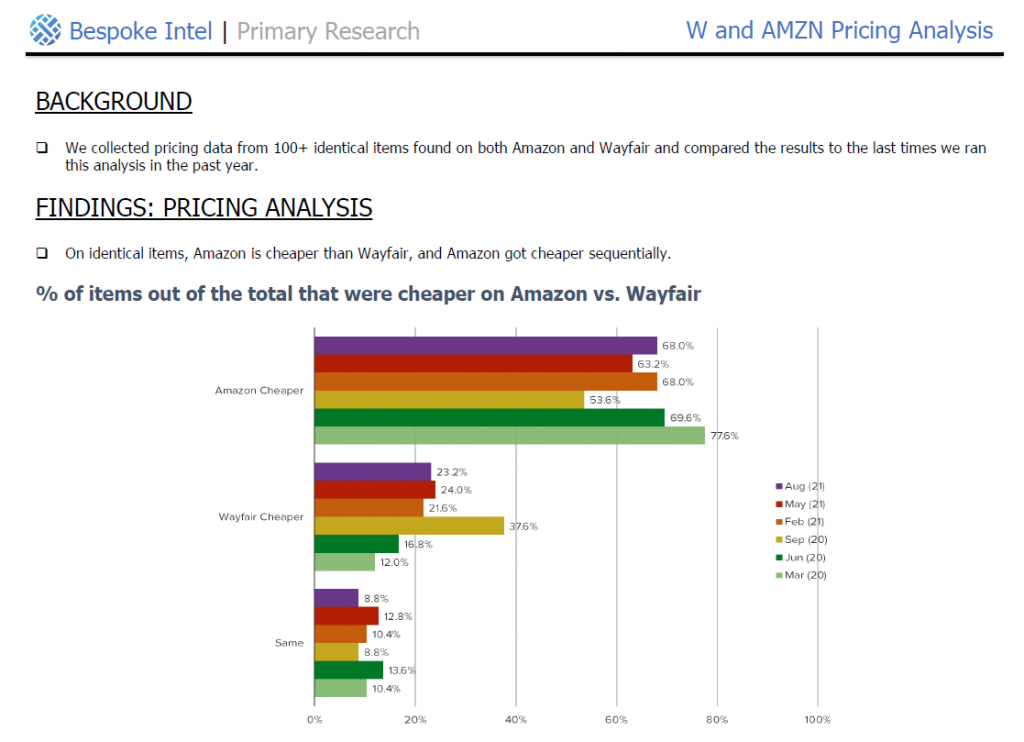 Charts: From Our Quarterly Survey of Wayfair Customers: